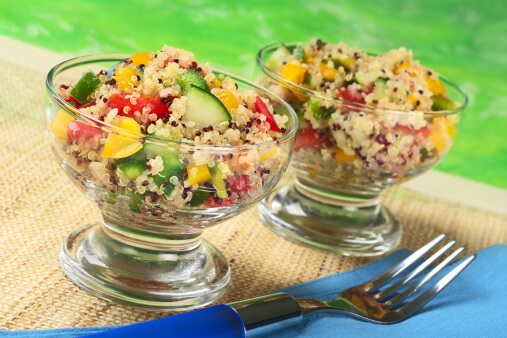 This Mediterranean quinoa recipe makes a stupendous meal coupled with Falafels or Carribean Lime Halibut.
Cook nutrient-dense quinoa until it's light and fluffy, dress it with lemon juice and olive oil and then add these Mediterranean treasures: fresh mint and parsley, toasted pine nuts, feta cheese. Cooked millet, rice or other grain can be substituted for quinoa.
Recipe reprinted with permission from Feeding the Whole Family by Cynthia Lair.
Mediterranean Quinoa Recipe Summary
Cuisine: Mediterranean
Course: Salad
Skill Level: Easy
Makes: 4 Cups
Servings: 4
Prep Time: 30
Cook Time: 20
Ingredients
1 cup quinoa
1 ¾ cup water
½ teaspoon sea salt
¼ cup toasted pine nuts
¼ cup olive oil
¼ cup lemon juice
3 tablespoons chopped mint
3 tablespoons chopped Italian parsley
¼ cup currants
⅓ cup crumbled feta cheese
Nutritional Information
Calories: 217
Protein: 4
Fat: 16
Sodium: 435
Carbohydrates: 13
Fiber: 2
Sugar: 2
Cholesterol:
Direcitons
Wash, rinse and drain quinoa.
Place in a 2-quart pot, add water and salt, bring to boil, lower heat and simmer with lid on until all water is absorbed (15-20 minutes). Don't stir the grain while it is cooking. Test for doneness by tilting the pan to one side, making sure all of the water has been absorbed. Remove lid and let rest 5-10 minutes.
Dry toast pine nuts in skillet or 300 degree F. oven until they begin to change color and give off aroma.
Combine olive oil, lemon juice, mint and parsley in a large bowl.
Add currants and toasted pine nuts and toss.
Using a fork, add cooked warm quinoa a little at a time.
Crumble feta over the top. Toss well.
Crumble feta over the top. Toss well.