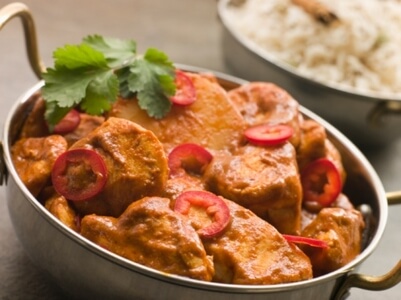 I love Indian food don't you? Serve this tikka masala recipe with rice and blanched broccoli to balance out the slightly rich sauce on the chicken. Hold on here. This can be a vegetarian dish too! See Chickpea variation at the bottom of the recipe for instructions.
Chicken (or Chickpea) Tikka Masala Recipe Summary
Cuisine: Indian
Course: Entrée
Skill Level: Moderate
Makes: 8 cups
Servings: 4
Prep Time: 10-15 minutes
Cook Time: 40 minutes
Ingredients
Marinade:
1 cup yogurt
1 Tbsp lemon juice
2 tsp ground cumin
1 tsp ground cinnamon
½ tsp cayenne pepper
½ tsp freshly ground black pepper
1 Tbsp minced fresh ginger
1/2 tsp salt, or to taste
1-1 1/2 pounds boneless skinless chicken breasts, cut into bite-size pieces 4 long skewers
1 Tbsp butter
1 clove garlic, minced
1 jalapeno pepper, finely chopped
2 tsp ground cumin
2 tsp paprika
1/2 tsp salt, or to taste
1 (8 ounce) can tomato sauce
1 cup organic heavy cream
1/4 cup chopped fresh cilantro
Meat:
Sauce:
Nutritional Information
Calories: 522
Protein: 40
Fat: 33
Sodium: 1028
Carbohydrates: 12
Fiber: 2
Sugar: 7
Cholesterol:
Directions
In a large bowl, combine yogurt, lemon juice, 2 teaspoons cumin, cinnamon, cayenne, black pepper, ginger, and salt. Stir in chicken, cover, and refrigerate for 1 hour.
Preheat a grill for high heat or use the broiler.
Lightly oil the grill grate. Thread chicken onto skewers, and discard marinade. Grill or broil until juices run clear, about 5 minutes on each side.
Melt butter in a large heavy skillet over medium heat. Saute garlic and jalapeno for 1 minute. Season with cumin, paprika, and salt. Stir in tomato sauce and cream. Simmer on low heat until sauce thickens, about 20 minutes. Add grilled chicken, and simmer for 10 minutes. Transfer to a serving platter, and garnish with fresh cilantro.
Variation: Chickpea Tikka Masala
Soak 1 cup dry chickpeas overnight.
Drain off soaking water.
Simmer chckpeas in yogurt spice marinade (above) plus 1 cup water until tender.
Start at direction #4. Where it says to add chicken, add chickpeas instead.